---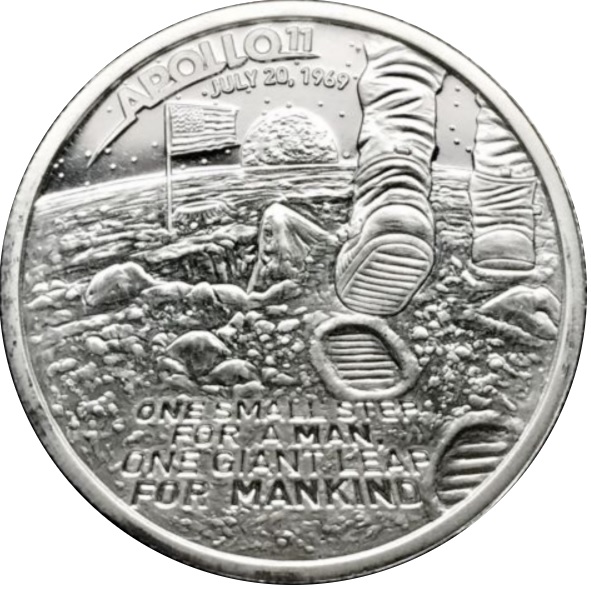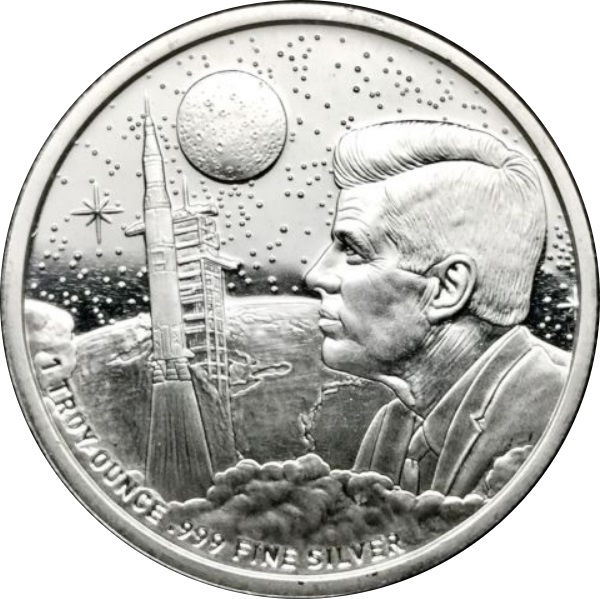 Minted by Mason Mint "Excellence In Minting".
This proof-quality silver round combines a beautiful design with 1 troy ounce of pure silver. It also commemorates one of the greatest accomplishments in the history of not just the United States but humanity as a whole: the first Moon landing. Each round is struck from .999 fine silver.
The front side of the round provides a view from the Moon, with the Earth visible off in the distance. The stylized text at the top reads "APOLLO 11" with the date of the landing "JULY 20, 1969" just below. One of the astronaut's boots is shown walking across the lunar surface. Next to his footprints, the famous quote from Neil Armstrong reads, "ONE SMALL STEP FOR A MAN, ONE GIANT LEAP FOR MANKIND."
The back side of the round shows President John F. Kennedy, who very publicly announced the U.S. commitment to reach the moon before the end of the 1960s, gazing skyward on the right side of the design. The Moon and stars are shown behind him, while a shuttle is shown launching from the earth. The round's weight and purity specifications are found inscribed along the bottom rim, reading "1 TROY OUNCE .999 FINE SILVER."
---
Pricing Details:
Points computation: 1 coin = 1.00 points
Tier
Points required
Price
(MYR)
Price/Gram
(MYR)
Price/oz
(MYR)
Percentage
Over Spot
Buy/Sell
Spread
2
1500
122.60
3.942
122.60
3
3000
121.74
3.914
121.74
4
5000
121.31
3.900
121.31
5
10000
120.89
3.887
120.89