---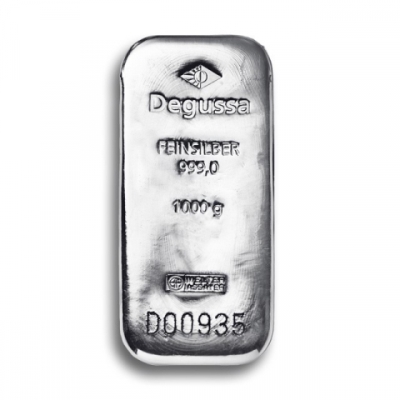 Degussa is an iconic name in the history of the German Gold and Silver market, having manufactured Gold bars for more than 150 years. The name Degussa is an acronym of for Deutsche Gold-und-Silber-Scheide-Anstalt (German Gold and Silver Metals Separating Works) based in Düsseldorf, Germany.
Key Highlights:
Contains 1000 grams (32.151 oz) of .999 fine silver.
Displays the Degussa name and logo along with the weight and purity.
Reverse: Plain
Mint vacuum sealed.
Guaranteed by Degussa.
The bars are manufactured in Switzerland by two of the world's major gold refiners, Argor-Heraeus SA and Valcambi SA.
---
Pricing Details:
Points computation: 1 bar = 32.15 points
Tier
Points required
Price
(MYR)
Price/Gram
(MYR)
Price/oz
(MYR)
Percentage
Over Spot
Buy/Sell
Spread
2
1500
3,037.79
3.038
94.49
3
3000
3,010.24
3.010
93.63
4
5000
2,996.47
2.996
93.20
5
10000
2,982.69
2.983
92.77