32.15 oz | 1,000 grams | Fine Silver (.999)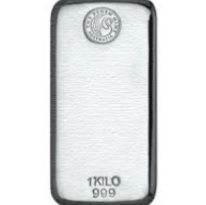 As low as
RM 2,612.57
Tier
MYR
Tier 1
2,694.04
Tier 2
2,666.88
+47 bars
Tier 3
2,639.72
+93 bars
Tier 4
2,626.15
+156 bars
Tier 5
2,612.57
+311 bars
Buyback price: 2,411.60
---
Investment Advantages
From an investment perspective, 1 kg bars carry a lower premium compared to coins and thus are a favorite among bullion investors. 1 kg Silver Perth Mint bars are recognized around the world and are very liquid bullion investments.
Perth Mint 1 kg Silver Bars
These 1 kg bullion bars are refined and minted by the Perth Mint, which is wholly-owned by the Government of Western Australia. The Perth Mint has been operating since 1899 and is one of the best known names in silver and gold bullion. The Mint also produces governmental legal tender silver koala, kookaburra and lunar coins. Perth Mint bars are recognized and accepted throughout the world.
Specifications:
Design: The finishing is smooth and refined. The bars can be neatly stacked for efficient storage. Perth Mint bars are stamped with the Perth Mint logo and a stamp indicating weight (1 kg), metal content (silver) and purity (99.9%).
About Certificates: It is an industry standard that Silver Bullion investment bars do not come with separate paper certificates. The mint logo, purity, weight and material is the inseparable certificate whose accuracy is, in this case, guaranteed by the Australian Government. Thus the source and reputation of the mint is the important factor to make a bar a liquid exchange medium.
Thus, for example, a separate paper "certificate" issued by an unknown or little known foundry which repeats the information shown on a bar would be redundant and meaningless. The common exception are higher premium limited edition numismatic or gift items whose certificated are used to specify than only an X number of items were produced.
Storage Relevant: Approximate size: 99mm x 49mm x 22mm. These bars can be stacked efficiently for storage.
As these are cast bars, expect them to exhibit some contact marks and/or toning.
---
Pricing Details:
Points computation: 1 bar = 32.15 points
Tier
Points required
Price
(MYR)
Price/Gram
(MYR)
Price/Troy Oz
(MYR)
Percentage
Over Spot
Buy/Sell
Spread
2
1500
2,666.88
2.667
82.95
3
3000
2,639.72
2.640
82.10
4
5000
2,626.15
2.626
81.68
5
10000
2,612.57
2.613
81.26