---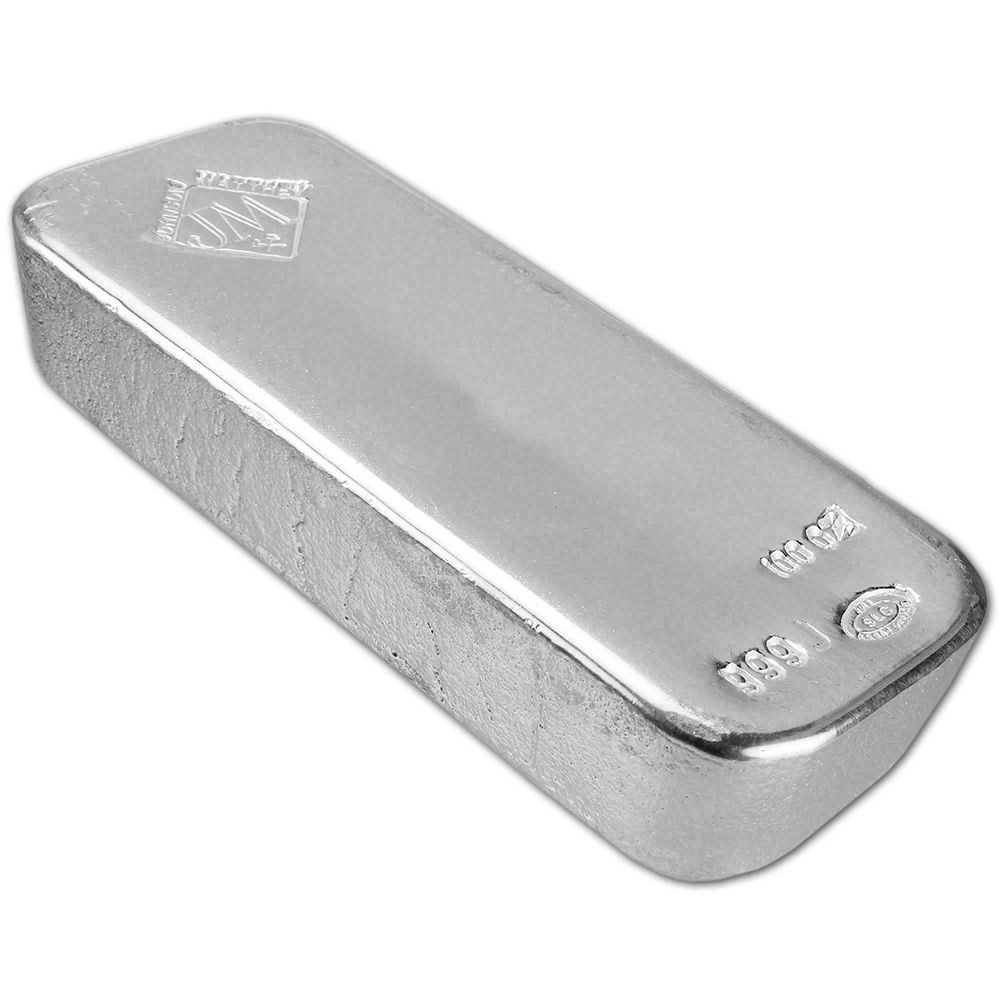 Investment Advantages
From an investment perspective, 100 ounce bars carry a lower premium compared to coins and thus are a favourite among bullion investors. 100 ounce silver bars are also industrial products intended foremost as a storage means, and recognized around the world as a trading medium. Hence they are very liquid investments.
Johnson Matthey 100 Ounce Silver Bar
These 100 ounce silver bullion bars are made by Johnson Matthey, one of the most renowned precious metals refiners.The 99.9% pure silver bars are refined and stamped with the JM Logo and Certification Mark by Johnson-Matthey.
Today, Johnson-Matthey's precious metal division is one of the premier companies in the refining, and fabrication of silver and gold bars with operations in over 30 countries. The company is traded on the London Stock Exchange, has a capitalization of about USD 5 billion and was founded in 1817. Their pure silver bars are recognized and accepted throughout the world.
S.T.A.R. Storage
Through the S.T.A.R. Storage program, customers can purchase these bars in multiples of five, which are then packed in a transparent, tamper proof, sealed bag called a 'parcel'.
Specifications
Design: The finishing is different from the Pan American silver bars due to the manafucturing process of pouring. Poured bars have aesthetic imperfections due to the manufacturing process but purity, weight and brand recognition are guaranteed. These bars have the Johnson Matthey with JM and crossed hammers in diamond logo and the JMI Assay Office certification mark in oval round SLC (Salt Lake City).
Note: All new Johnson Matthey poured bars no longer have a serial number. This is the primary difference between older, secondary market bars (which have a serial number) and the new bars which have been produced in the last few years (which do not). The reason given by Johnson Matthey is that 100 ounce bars are not used for delivery in commodity markets such as the COMEX, NYMEX and CBOT (which use 1000 ounce bars) and therefore do not require serial numbers.
About Certificates: It is an industry standard that Silver Bullion investment bars do not come with separate paper certificates. The mint logo, purity, weight and material is the inseparable certificate whose accuracy is, in this case, guaranteed by Johnson Matthey and the JMI Assay Office (usually Salt Lake City). Thus the source and reputation of the mint is the important factor to make a bar a liquid exchange medium.
Thus, for example, a separate paper "certificate" issued by an unknown or little known foundry which repeats the information shown on a bar would be redundant and meaningless. The common exception are higher premium limited edition numismatic or gift items whose certificated are used to specify than only an X number of items were produced.
Approximate size: 6.6 inch x 2.7 inch x 1.3 inch (168mm x 69mm x 33mm) bar.
---
Pricing Details:
Points computation: 1 bar = 100.00 points
Tier
Points required
Price
(MYR)
Price/Gram
(MYR)
Price/oz
(MYR)
Percentage
Over Spot
Buy/Sell
Spread
2
1500
9,395.08
3.021
93.95
3
3000
9,373.63
3.014
93.74
4
5000
9,352.18
3.007
93.52
5
10000
9,330.73
3.000
93.31
Storage Fees
Duration
Fixed Storage Fee
Per Bar
Fixed Storage Fee
Per Parcel
6 months
0.00 MYR *
0.00 MYR
12 months
0.00 MYR *
0.00 MYR
24 months
0.00 MYR *
0.00 MYR
36 months
0.00 MYR *
0.00 MYR
60 months
0.00 MYR *
0.00 MYR
* Stored in multiples of 5 bars and can be collateralized. Any unused storage will be refunded upon sellback or delivery.